Instead of laser clinics, laser service at home much cheaper in a long run. Here we answer some questions you all care about.

 

Price of Laser hair removal at home
Does home laser hair removal works?
How long does it take to see results?
What areas can be treated?
Do they get rid of hair permanently?
What happens if wait too long between laser hair removal?
Is it safe for all skin types?
How many times should do laser hair removal at home?
What should be prepared before laser hair removal at home?
What can you not do after laser hair removal?
Cons of laser hair removal at home 
Price of Laser hair removal at home
There are many laser hair removal machines on the market, the price arranges from around $120 to more than $500.
The device with an affordable price, like Padapada, may have high quality but may not suitable for people with dark skin and dark hair. High price device may have some special features, Braun do well at keeping people from any laser hurt; Tria devices use diode lasers, which the same technology that many clinics use. And if you have dark skin, you could head to Philips.
Does home laser hair removal works?
Different people have different feelings, average, it works! 
But if you have dark skin and light hair, you may take longer to see the results, and you need to pick one device expert on dark skin.
How long does it take to see results?
Here we talk about the results for pale skin and dark hair
People with pale skin and dark hair are the best candidate for IPL, people could see the results around 3-4 sessions, then the hair would be thinner, weaker and took longer to grow back. 5 months later, you'll see the "permanent" look, then you just need 4-8 week top-ups.
Note: some parts, the area that hair tends to be thicker, needs more sessions to see the results.
There are some pictures for IPL/laser hair removal before and after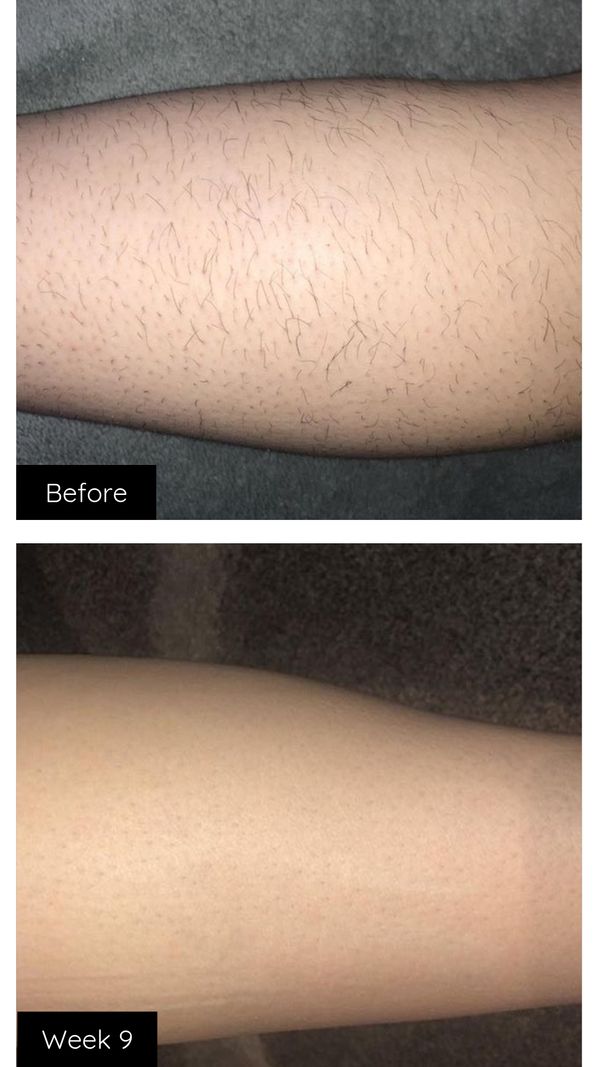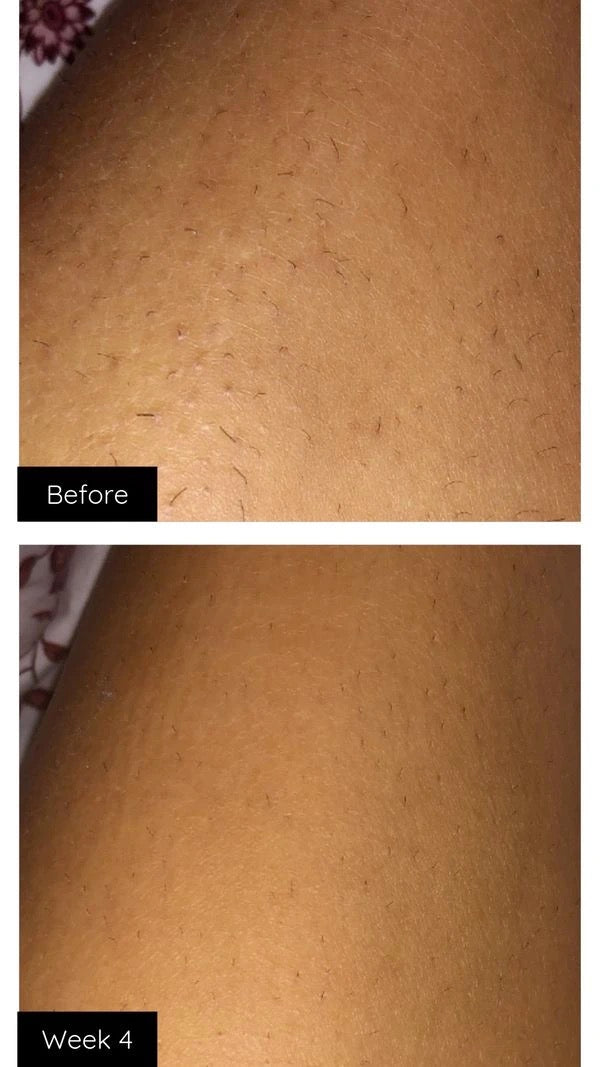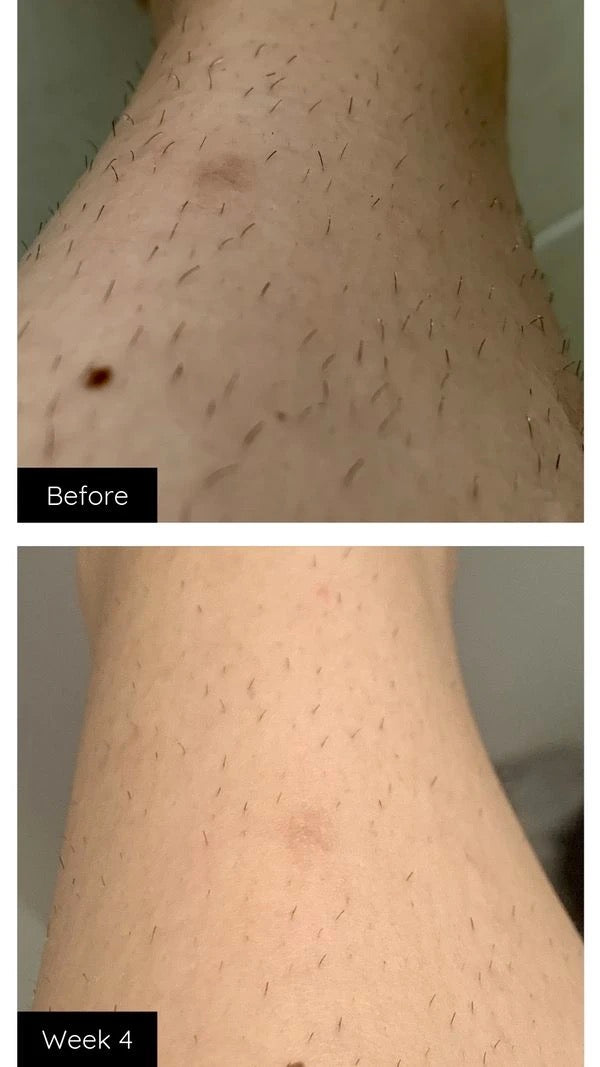 It's recommended to do one session every two weeks for the first four sessions and then every four weeks on whichever area you are treating. After 3 sessions, you may notice the amazing process:
The hairs themselves are thinner/weaker, so that when you shave them before using IPL, there is NO red bumps or razor burn at all and NO ingrown hairs, this is a huge issue for many people, for the red and raw look is more noticeable than just having hair there sometimes.
A few stray hairs grow back within 5 days but mostly it STARTS to grow back more consistently after 8-10, smooth for SO LONG! You can get the same result from waxes, but IPL much quicker, hurts less, and cheaper in the long run.
5-12 months later, is when you hit the "permanent" look, the hair won't be permanently gone, but the hair will grow back longer, like 4-8 weeks, a "permanent" hair growth level.
What areas can be treated?
Laser hair removal at home could remove all body hair: the lower face & upper lip, neck & jaw, lower left arm, lower right arm, upper left arm, upper right arm, underarms, bikini line, extended bikini line, buttocks, upper right leg, upper left leg, lower right leg, lower left leg, toes & feet, shoulder, upper back, lower back and hands & fingers.
If you just want to remove hair in a small area or a large area, you could choose a device suit for the small area ( like Tria ) or large area( like Padapada, Philips ), for convenient use.
Do they get rid of hair permanently?
There is no way to remove hair permanently at home. However, it may be possible to permanently or semi-permanently reduce hair growth. The hair would take longer to grow back and be finer. According to one study, intense pulsed light (IPL) devices designed for at-home use are safe, and if a person uses them regularly, they are effective for hair removal.
Why hair can't get rid of permanently by laser at home?
Read to know how does IPL/laser work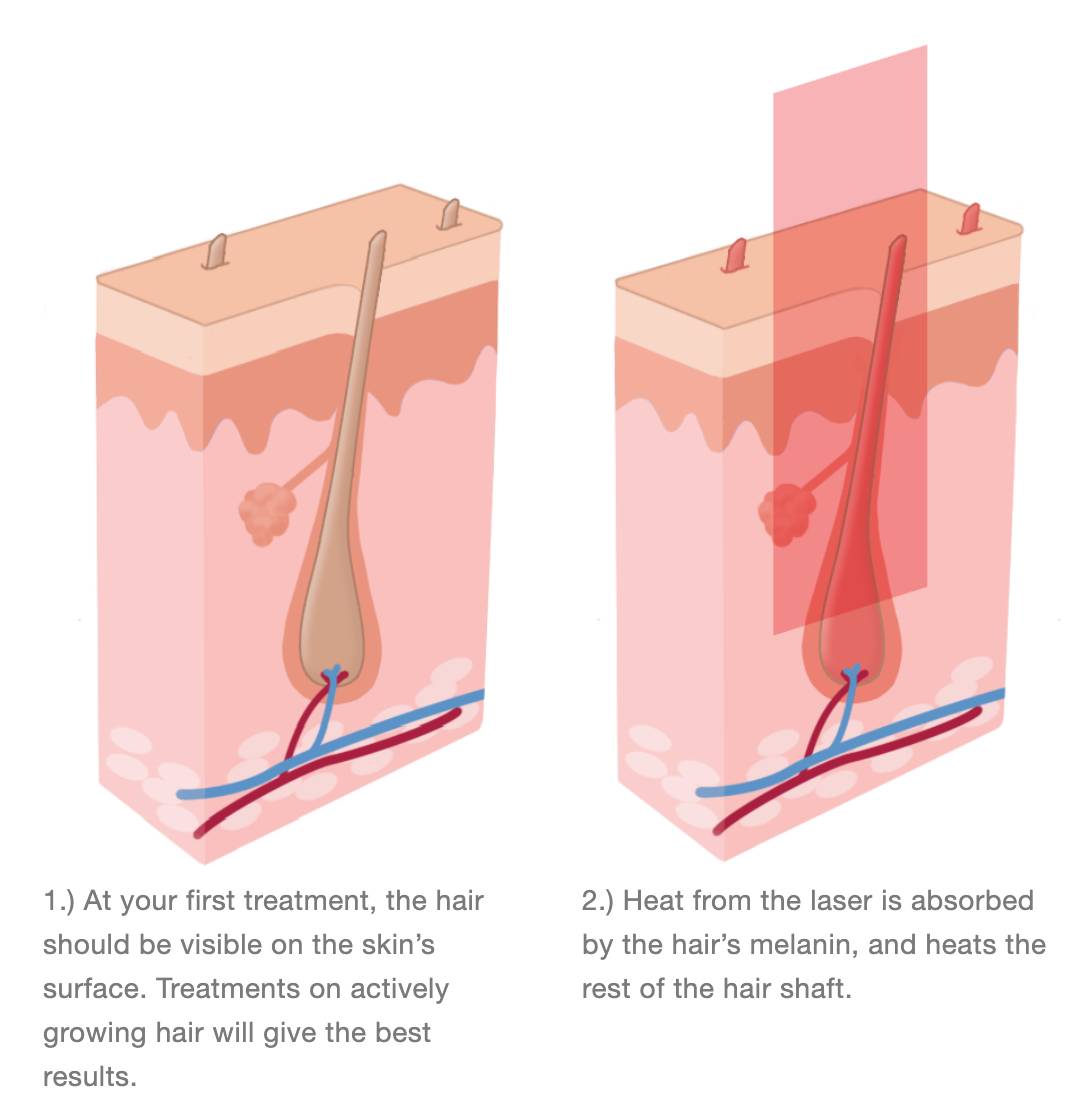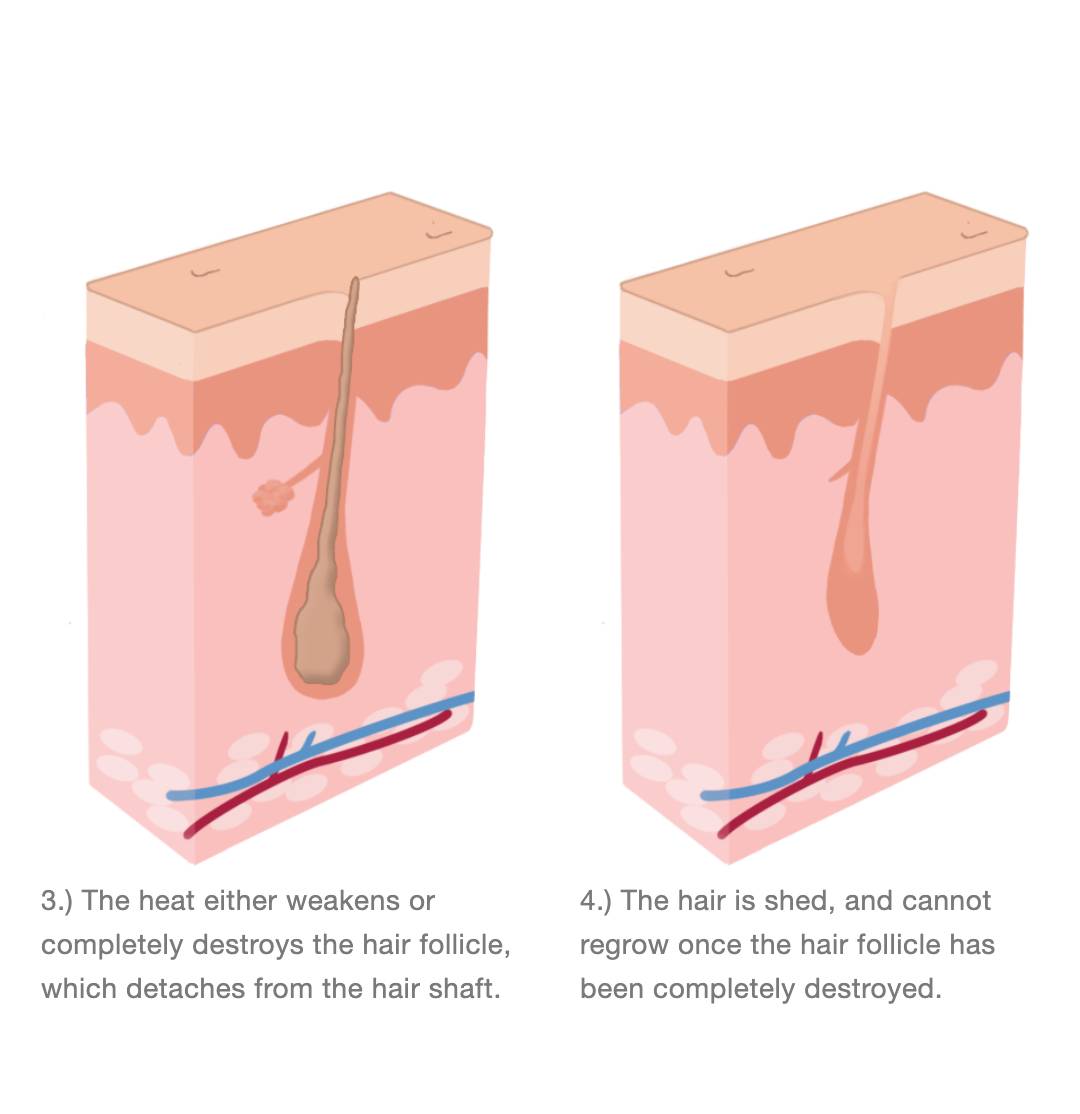 Once the particular follicle is dead it will not regrow, but new ones can be triggered by hormonal changes.
What happens if wait too long between laser hair removal?
As said before, the hair may grow back, but it would take longer for regrowth and finer.
Is laser hair removal at home safe for all skin types?
We answered this question in " Is Laser Hair Removal Has Side Effects ". You need to choose hair removal devices carefully if you have dark skin. The melanin in your skin would absorb the heat of laser, your skin may be hurt.
It's safe for the following skin and hair:
Skin- Light to medium brown
Hair- Light brown to black
How many times should do laser hair removal at home?
Actually, it depends on your skin, hair color, age, and other factors.
For a lot of people, take 3-5 sessions to let the hair fall out naturally after each growth cycle, take 8-15 sessions to reach a "permanent" look, then you just need 4-8 week top-ups.
What should be prepared before laser hair removal at home?
Plan Ahead
If you have been taking any antibiotic treatments, delay your laser hair removal session until two weeks after you take your final dose.
You May Shave
Unlike when you have waxing or threading, you do not need to have surface hair for the laser treatment to work. In fact, shaving within 12 hours before your laser treatment is recommended as it will prevent the hair from being singed on the surface by the laser.
Do Not Wax Or Thread
It is important also to not wax or thread the area in the month running up to your laser removal as this will disrupt the stage of natural hair growth and therefore significantly reduce how effective the laser treatment is.
Clean The Skin
Make sure that there are no cosmetics, deodorants, creams or other beauty products on the skin. Make sure that in the weeks running up to your treatment that your skin is sufficiently moisturized though.
Wear Loose-Fitting Clothes
You want to choose items of clothing to enable you to expose the treatment area comfortably and easily. You will also want to minimize any irritation to the area after the session, so skinny jeans aren't a good idea if you do laser for your bikini line or legs.
Protect Your Skin
Ensure that you are using sun protection liberally in the weeks running up to and after your treatment, even when you are just stuck in the office. Do not use sunbeds or even use fake tan, and stay out in direct sun in the weeks running up to and after your laser hair removal. This will dry out your skin, and make you more prone to burning. Tanned skin will also mean that laser hair removal is less effective as darker skin will absorb more of the energy from the laser.
What should do after laser hair removal?
Once Again, Do Not Wax
By waxing or threading after your treatment, you may disrupt the follicle and impede the damage that the laser has done to the follicle. This could mean that you cause regrowth in areas that it may not otherwise begin in.
Use Sun Protection
You need to avoid direct sunlight and tanning booths for 2-4 weeks after treatment. You can apply sunblock but make sure it has a high SPF rating. Skin that has been treated will be more sensitive to the sun than normal, so use a higher SPF than you usually would.
Avoid Hot Baths And Showers
For at least 48 hours after your treatment, avoid showering or bathing in hot water as this can irritate the skin. Similarly, don't use the gym or saunas at this time.
Cons of laser hair removal at home
It's quite fiddly and time consuming which made it hard to stick to the routine.
Some devices could hurt you if you don't operate properly, Braun does well at keeping you from this kind of hurt.
IPL/laser at home not suitable for all skin and hair, IPL works best on people with pale skin and dark hair.
In general, a laser hair removal machine at home is worth to invest! Hope all you could satisfy your body~